Mass Effect Live Wallpaper for Android
On my Android 4 phone I use ring tones that were made by taking parts from Mass Effect music tracks and editing and saving them as MP3 files. I figured it might be nice to share what I have to other folks that want to customize their phone to look pretty cool and themed with Mass Effect stuff and all that. The Live Wallpaper I used is actually made by nVidia and Bioware but it has this huge honking ugly logo on it - so I found one that does away with the logo. You have to select female Shephard though as you set the background settings. I prefered the female Shephard anyways - the male Shephard was removed from this modded Live Wallpaper, which was fine by me.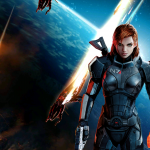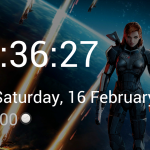 Original Live Wallpaper by nVidia and Bioware.
Modded Live Wallpaper with female Shephard that I use.
Local copy on my own website of the modded live wallpaper above.
Ringtones in MP3 format:
You can use the media player here to listen to the track - the arrow on the right allows you to download the MP3 file.
Mass Effect 1 - Noveria


Mass Effect 1 - Uplink


Mass Effect 2 - Normandy Reborn


Mass Effect 3 - Creation


Mass Effect 3 - Das Malefitz


Mass Effect 3 - Leaving Earth


Mass Effect 3 - Mars


Mass Effect 3 - Rannoch

Disclaimer:
All the material above is copyrighted by the original copyright holders Bioware, Microsoft Game Studios, Electronic Arts, nVidia and others. No copyright infringment is intended - I only want to share this great stuff with other fans.